Gwendolyn Brooks (1917 - 2000)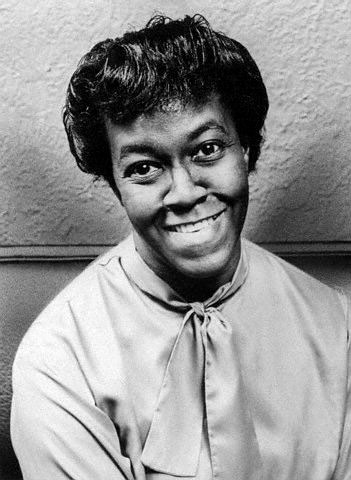 "...good writing and literature, have exposed evil in the world, have contributed mightily of personal revenues to the young, to the would-be-writers, to students and to the institutions of common good is without a doubt. However, the only poet who has made it her mission to incorporate all of this and more into a wonderful and dedicated lifestyle is Gwendolyn Brooks."


--poet Haki Madhubuti


-----------------------------


"I who have gone the gamut from an almost angry rejection of my dark skin by some of my brainwashed brothers and sisters to a surprised queenhood in the new Black sun am qualified to enter at least the kindergarten of new consciousness now... I have hopes for myself."


--Gwendolyn Brooks
------------------------

Listen up. Black History Month is drawing to a close. The daddy has written about political leaders, musicians, novelists and playwrights. But he has yet to acknowledge or praise a poet. And how could the daddy close Black History Month without giving props to Gwendolyn Brooks, one of the greatest poets of the 20th century?

They say the Creator acts in mysterious ways. But there was nothing mysterious about the Creator giving Brooks to us.

The Creator gave us a transplant from Topeka, Kansas, a graduate from Wilson Junior College in 1936, and a gifted writer who made the southside of Chicago her home and who settled in our hearts to stay.

And she was gifted alright. Her

first book, "A Street in Bronzeville," a small set of poems about folks in your neighborhood, got a lot of ink and a lot of dap; and her second book, "Annie Allen," got more props still. In fact, she won the Pulitzer Prize for it in 1950.

After getting that Pulitzer, she wrote books for people of all ages: Maude Martha (1953), The Bean Eaters (1960), In the Mecca (1968), Riot (1969) and Jump Bad (1971), that anthology. And for such quality writing, she became the poet laureate of Illinois in 1968, and even received the Society for Literature Award from the University of Thessalonica in Athens, Greece, the first American to achieve this distinction.


But her greatest and lasting contribution may to the development of American literature itself. You see, America was not just another England but a nation of many people, all coming here for different reasons and with their own experiences, their own stories. In fact, America was a new nation full of different people with new experiences. These new experiences and new stories demanded a new kind of literature to capture them.

Walt Whitman talked about this need for a distinctly new literature. In the preface to "Leaves of Grass," he wrote: "The American poets are to enclose old and new for America is the race of races. Of them, a bard is to be commensurate with a people. To him other continents arrive as contributions. He gives them reception for their sake and for his own sake."


Speaking of African Americans, the great poet William Carlos Williams wrote: "The one thing that never seems to occur to anybody is that the Negroes have a quality which they have brought to America…Poised against the Mayflower is the slave ship-manned by the Yankees and Englishmen-bringing another race to try upon the New World…There is a solidity, a racial irreducible minimum, which gives them poise in a world where they have no authority."

Brooks used

that poise, that discipline, in her writing. She used the craft of poetry to shine a light on a distinct people, a "nation within nations," to get us to get see African Americans, and extension, America more clearly. For example, in "Children of the Poor," she put a cup on the side of a wall and hear a mother ask:

What shall I give my children? who are poor,
Who are adjudged the leastwise of the land,
Who are my sweetest lepers, who demand
No velvet and no Velvety velour;
But who have begged me for a brisk contour…
But I lack access to my proper stone
And plentitude or plan shall not suffice
And not grief nor love shall be enough alone
To ratify my little halves who bear
Across an autumn freezing every where.

In "The Pool Players. Seven at the Golden Shovel," she led us into a neighborhood pool hall to peep the hand of hip black youth, to concisely divine their fate:

We real cool. We
Left school. We

Lurk late. We
Strike straight. We

Sing sin. We
Thin gin. We

Jazz June. We
Die soon.

In "Malcolm X," she showed us fierce, straight-up manhood and down-to-earth, mother-wit intelligence:

Original.
Hence ragged-round,
Hence rich-robust.

He had the hawk-man's eye.
We gasped. We saw the maleness.
The maleness raking and making guttural the air
And pushing us to walls.

And in a soft and fundamental hour
A sorcery devout and vertical
Beguiled the world.

He opened us-
Who was a key.

Who was a man.

So let's raise a glass and make a toast:


Dear Creator:

Thank you for bringing Sistah Gwendolyn into this world.
Thank you for placing her in our nation, our community, our
hearts.

Thank you for ushering this gentle genius, this truthseeker, to create, to
solidify a distinctly American literature, to adapt traditional forms of poetry to a sun people's struggle for liberation and freedom in a cold and distant land.


Thank you for sending us a writer who made causal rhymes sing like Aretha Franklin at a black church in Detroit on Sunday, who gave us a star each time she put pen to paper.


Thank you for bringing us Gwendolyn Brooks, a poet who made words open their eyes, dance and sing.


Amen.